NuCara Point of Care Testing
If you would like to schedule a COVID-19 vaccine or booster, please call your pharmacy or click here!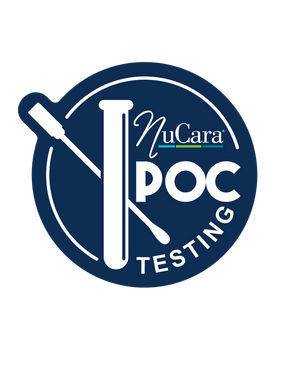 Point Of Care Testing For COVID-19, Influenza, And Strep Throat
What is Point of Care (POC) Testing?
Schedule an appointment at one of the locations below for testing and possible treatment for one of the following: COVID-19, Influenza, or Strep Throat.
One appointment = diagnosis and treatment!
After a brief consultation with the pharmacist, patients may qualify for testing and treatment. The appointment can include a short health assessment, which would include vitals such as blood pressure, temperature and weight. Then our staff will administer a swab test. Results will be available in 15 minutes or less. Cost of the test is $125. If the patient receives a positive test, our staff has the ability to prescribe and fill the proper treatment for Strep Throat and Influenza. Total appointment time can range from 30-60 minutes.
Insurance coverage will vary by plan. Contact your Pharmacy for more information regarding billing. Testing and treatment are available for ages 6 and older with a parent/guardian's consent if under 18. We require a parent/guardian to be present for anyone 18 and under.
Schedule Your Appointment Today!
Click on the location below to schedule an appointment: