ATTENTION NUCARA PATIENTS: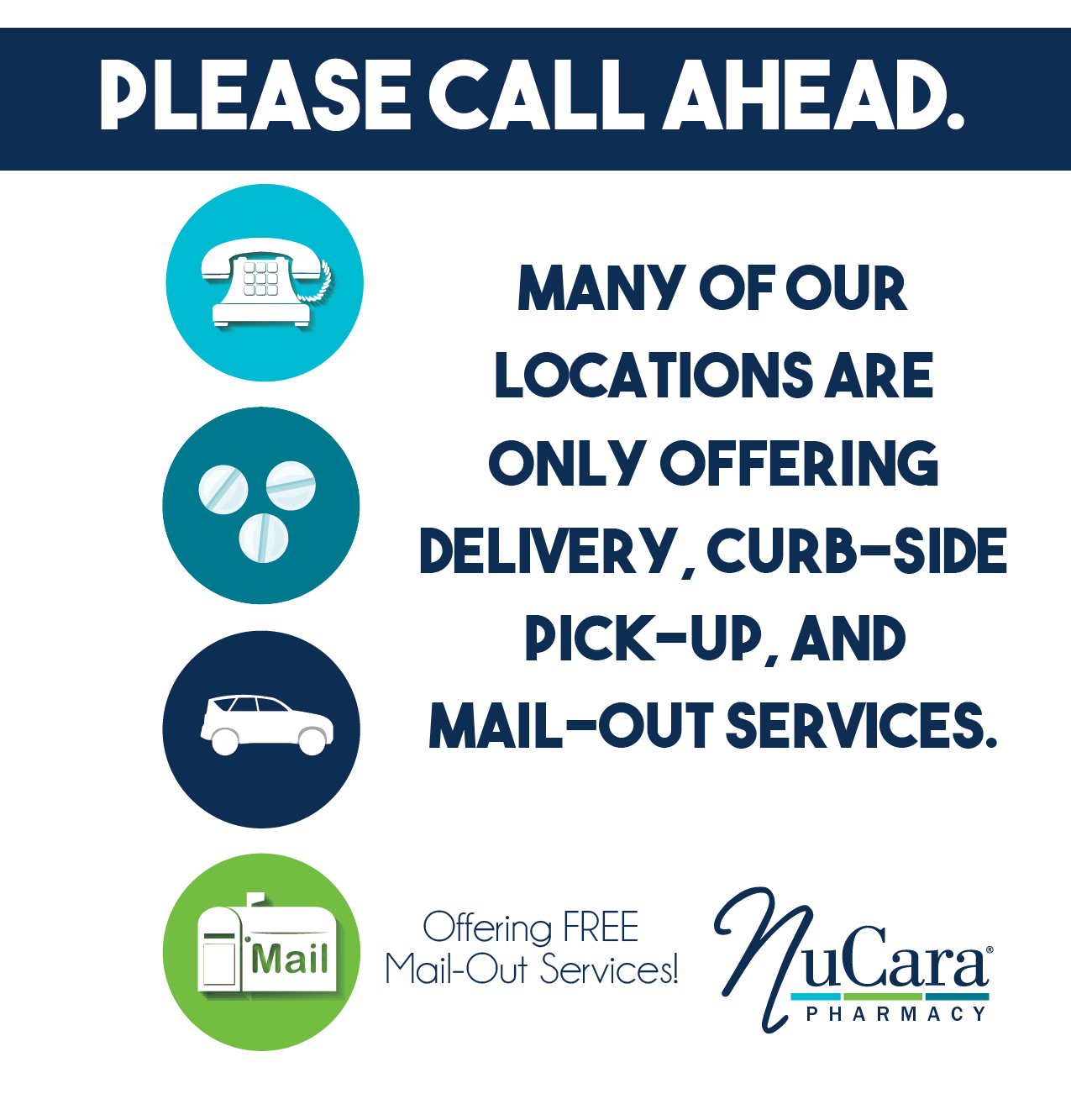 At NuCara, we take the prevention of the spread of infectious diseases, including coronavirus, very seriously and are taking additional precautionary steps during this period of heightened risk. Many of our locations are now operating DELIVERY, CURBSIDE SERVICE, and MAIL-OUTS only at this time. Please call first before visiting your NuCara to find out the best way to get your medication.
What does that mean?
- No patients in the building.
- Please call ahead to ensure we will have your prescription and over-the-counter medications ready.
- Call when you arrive and we will come out to hand off your medication.
- If you don't have a cell phone, please come to the door and wave, but do not congregate.
- All payment and correspondence will be done via the telephone or mail. - We encourage you to use our mail-out services if possible.
- We are offering FREE mail out services through the end of April to all patients.
Thank you for your understanding and patience during this time. We will continue to keep you updated as things evolve.
For more information on NuCara's COVID-19 response, click HERE.
Subscribe to our newsletter
Stay up to date with seasonal promotions, health news and savings
Our Mission
We are passionately committed to providing diverse pharmacy and other health care products and services, emphasizing excellence, innovation, and creativity for the benefit of our patients.
Our Vision
We strive to be the recognized leader in successfully identifying, developing, and delivering superior pharmacy and other health care products and services to the delight of our patients.

NuCara Achieves Accreditation with ACHC
Nucara proudly announces its approval of accreditation status by Accreditation Commission for Health Care (ACHC) for the services of list services.
Achieving accreditation is a process where healthcare organizations demonstrate compliance with national standards. Accreditation by ACHC reflects an organization's dedication and commitment to meeting standards that facilitate a higher level of performance and patient care.
ACHC is a not-for-profit organization that has stood as a symbol of quality and excellence since 1986. ACHC is ISO 9001:2008 certified and has CMS Deeming Authority for Home Health, Hospice and DMEPOS.