Enteral Nutrition Services
NuCara Nutrition Program Provides
Reimbursement qualifications and authorization.
Coordination of transition to home care. • Interdisciplinary plan of care, based on nutrition assessment.
Monthly evaluation of nutrition status, progress, and compliance.Reassessment based on plan of care. • Clinical resource for patients and caregivers throughout course of treatment.
Nutrition Program Goals
Minimizes re-hospitalization
Optimal patient outcomes
Meets nutritional goals
Vital Care Nutrition Support Team
Physician - Disease specific nutrition evaluation and management.
Registered Dietitian - Clinical nutrition assessment and management, product recommendations, and reassessment.
Pharmacist - Pharmacological evaluations for optimal nutrition and medication management.
Registered Nurse - Patient education, site care recommendations, and coordination of services.
What referral information will I need to send?
Demographics and insurance
Diagnosis appropriate for enteral nutrition
Height, weight, and allergies
Nutrition product or equivalent order
Feeding route and equipment
Medicare patients may need additional information.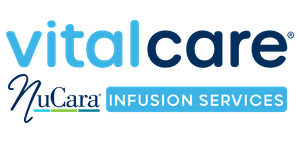 How can I make a referral to NuCara Pharmacy?
Call or fax referral information to:
F 319.236.9665
F 877.236.9665