Home IV Antibiotic Therapy is an excellent alternative for many patients whose medical conditions warrant discharge from the hospital and, at the same time, require prolonged parenteral antibiotic therapy.
Common Diagnoses For Home IV Antibiotic Therapy: Home IV: Antibiotic Therapy
Cystic Fibrosis
Osteomyelitis
Pneumonia
Cellulitis
STDs
Septic Arthritis
Prostatitis
Wound Infection
AIDS Related Infections
Catheter Infections
Otitis Media
Endocarditis
Urinary Tract Infection
Respiratory Tract
Sinusitis Infections
Advantages Of Home IV Antibiotic Therapy
Patients are more comfortable, often recover faster and experience fewer complications.
Home IV Therapy costs considerably less than hospital administered therapy.
Enhanced quality of life: patients on home IV therapy are able to enjoy routine activities, hobbies, and in many cases, are able to return to work.
NuCara IV Services
NuCara professionals assess and monitor patients on a case-by-case basis, coordinating therapy with the patient's physician, local nursing agencies, and family members.
NuCara utilizes nurses with infusion training and experience, and provides training for area nursing agencies.
Complete patient training in appropriate self care is provided; this training includes family members who may participate as caregivers.
NuCara services include the personal delivery of all needed equipment and supplies, and 24-hour, on-call availability.
To refer a patient, please contact your local NuCara Pharmacy for an immediate free assessment.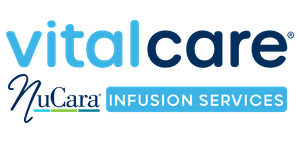 F 319.236.9665
F 877.236.9665