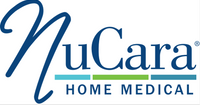 Our team of trained professionals do all that they can in order to provide our patients with the best home medical equipment, supplies and services available. Many of your medical supplies and equipment needs may be met from our extensive inventory and no appointment is necessary for consultation or assistance.
NuCara Home Medical Services
24-hour Emergency Assistance
Certified Mastectomy and Orthopedic Fitters Available
Consultation and Discharge Assistance
Patient Education and Training
Rental, Sales and Service of Health Care Equipment
Insurance Claim Filing
Direct Payment for Medicare, Medicaid and Other Insurance Plans
Equipment Delivery
...And More
NuCara Equipment Categories
Complete Home Oxygen System
Home Respiratory Therapy
Patient Room Equipment
Wheelchair and Personal Mobility
Complete Home Enteral Feeding
Bathroom Safety
Wound Care and Sports Braces
Diabetic Shoes and Compression Stockings
Breast Pumps (Sale or Rent)
NuCara is now proud to partner with Hammer Medical Supply in many Iowa communities. Click here to learn more about their great line of equipment and services.